Thin Ice 2018, Plastic Wall Art
Plastic waste construction designed to be wall hung,
Dimensions vary, plastic, ply and paint.
Constructed 2018 for Lysaght Watt Gallery annual competition 'Rising'.
This piece was inspired by diminishing sea ice formations as a result of rising ocean temperatures.
Reverence 2018
Plastic waste assemblage.
Made for exhibition 'Diverse Locals'. Lysaght Watt Gallery, February 2018.
Measures 150 x 40cm.
A shrine to consumerism.
Geo Cloud 2014
Constructed from waste plastic and LED lighting.
Dimensions vary. Light installation exhibited at Puke Ariki for 'Homework' 2014.
Trash Mandala 2014
Waste plastic, MDF and paint.
Boards measure 40 x 40 cm each.
Plastic is forever and so has become part of the fabric of the universe as represented by the mandala.
Plastic Topographic 2015
Plastic waste wall art.
Dimensions vary.
Mantra 2017
Plastic waste and wood installation.
Exhibited at Puke Ariki Museum for 'Homework', 2017.
Measures 2 x 1m.
Geo Pod 2017
Plastic waste light installation. LED rope lighting.
Measures 150 x 40cm.
Black Thorn 2017
Plastic and electrical waste installation.
Dimensions vary.
Made for group exhibition at Percy Thomson Gallery August 2017.
Organic-Inorganic
Waste plastic installation.
Dimensions vary.
Inspired by beach plastic.
Tubular Yin Yang 2017
Carved from salvaged rimu timber and mounted on a steel base.
Measures apx 150 x 40 cm
Study in modernist sculpture.
Petroplast 2018, Plastic Wall Art
Inspired by beach plastic, oil spills and pyroplastic, a new type of rock combing lava and plastic in Hawaii.
Designed to be wall hung or sat on a flat surface.
Measures 50 x 40 x 30 cm.
Made from beach plastic. plastic packaging and steel.
Blue Reef, 2018
Installation depicting an ocean reef made of plastic waste,
Polyp 2018
Constructed from collected beach plastic including alkathene piping, joined with steel components. Coral polyps that form coral reefs filter in seawater non-selectively in order to feed. Tiny particles of non-digestible plastic prevalent in the inshore coral reefs are ingested and have been found inside the stomachs of polyps, the effects of this is not yet apparent. The form of this sculpture has been inspired by the tubular formations of coral polyp found in tropical reefs such as Australia's Great Barrier Reef. Measures 25 cm diam. x 95 cm high.
Sea Enemy 2018
Salvaged beach plastics, alkathene (polyethylene) and HDPE, 25 diam x 95 cm.
Based on a kina inspired form and constructed from alkathene pipes collected from the South Taranaki beach at the end of 'Kina Road'. This piece emanates hostility and symbolises the degradation taking place in the ocean as result of plastic pollution and how it represents an enemy presence there.
Blue Reef 2018
Sculpture and installation constructed from waste wood and plastics.

Dimensions vary, constructed from waste wood and plastics.
This reef has grown organically from a collection of waste plastic and wood collected from various sources including building sites, Taranaki beaches and recycling bins. It is densely colourful and diverse in shapes much like a actual coral reef. Plastic waste we see floating in gyres and washing up on beaches is only a small percentage of what is present in the ocean, it's estimated that around 70% of commercial plastics sink. Blue Reef is a fantastic interpretation of plastic reefs forming on the ocean floor.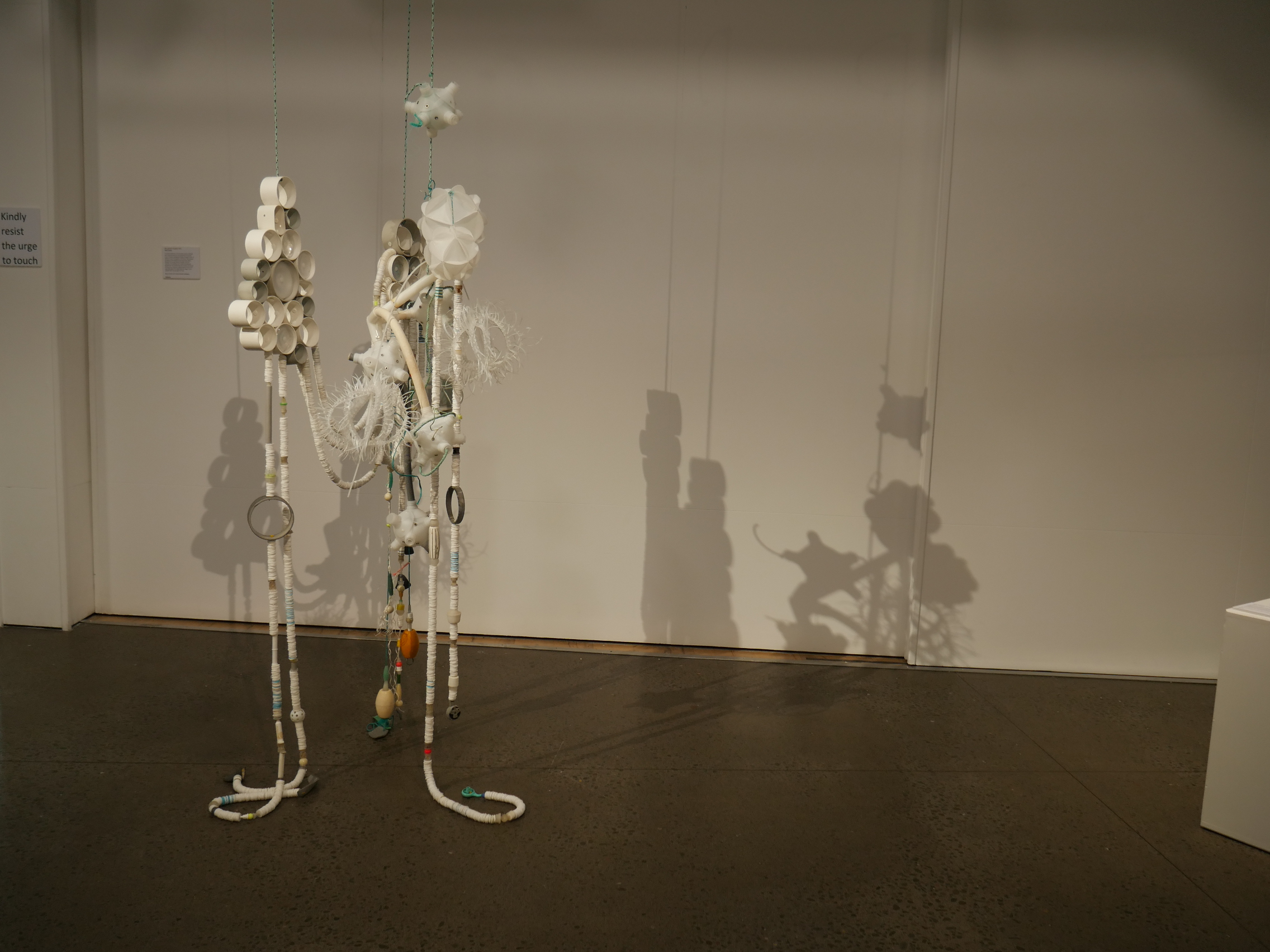 Microplastic Plankton 2016-2018
Waste plastic installation statement about ocean plastic. Dimensions vary. Made from found ocean plastic and collected plastic from the community.
Stylish decor from waste.
Claire from wastemedia has recently been developing pieces inspired by Modernist and Scandinavian design. Function has been a main focus when designing these new pieces.
Tension and Rhythm 2018
Salvaged aluminium and rimu. Measures 20 x 20 x 60cm.
Serpentine 2019
Rhythmical wall art made from salvaged matai timber cut into crescent shapes then arranged into a form reminiscent of a snake. Piece measures 20 x 60 x 4 cm.
Green Wash 2019
Plastic waste wall art constructed from wheelie bin plastic. 60 x 40 x 40 cm.